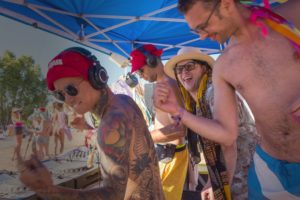 "SHIFT 2017 was a magical experience from start to finish. I arrived late Thursday night and was greeted at the gate by a man who immediately caught on to the silly vibes Sheppard and I smelled of. This turned into a running trend the entire weekend. Silliness permeated the festival grounds from the main stage and its rainbow colored LED speaker arrays, to the pond stage filled with beautiful people and their strange, sometimes ineffective flotation devices.
I always felt welcome and never had a negative thought throughout the weekend. As a festival veteran, I truly cherish experiences like these, which are becoming rarer and rarer. The music was stellar, the people were absolutely amazing, the size/scale of the festival was spot on, and I can safely say that SHIFT 2017 was one of my all time favorites. Looking forward to attending this year!"
Photo cred: Dylan Evanston
Comments are closed.