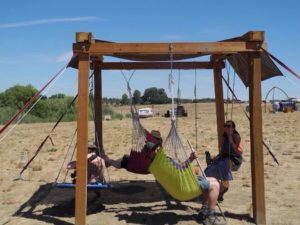 "I was a non-festival goer until I begrudgingly attended SOAK 2016– and I really enjoyed myself! While at SOAK I spent some time dancing and socializing at Tectonic, and I really appreciated the clear intention and craft about the space. SOAK has a way of adding new connections to your life, and these folks expressed how great SHIFT 2016 went, so I purchased my SHIFT 2017 tickets as soon as they were available. I managed to bring along art to share with the community in 2017, but I'm looking forward to volunteering in 2018!
One of the things I love about this festival is the size. SHIFT is just large enough to be interesting, but not so large that you can't find your friends. The theme camps and art seem to have a feeling of "careful selection" that I find enjoyable. It was delightful to have multiple stages with vastly different offerings to support my mood. The atmosphere was such that we plan to bring along my partner's father this year, he's travelling out from Colorado just to attend SHIFT with us!
Advice for SHIFT: bring shade, real shoes, and be kind to your vollies because they're workin' hard to support your fun habit <3."
Comments are closed.